Regular price
Sale price
$10.00 USD
Unit price
per
Sale
Sold out
Share
Pearlbox soap is a vagina-specific soap with ingredients specifically chosen for their calming, soothing, and hydrating effects. It includes calendula, chamomile, lavender, sweet orange, and buckthorn extract to effectively cleanse and nourish the skin while protecting the delicate balance of your yoni. Safe and non-irritating, This soap leaves your sensitive area feeling clean and refreshed.
Key Ingredient
Calendula Extract is naturally anti-inflammatory and antibacterial and is beneficial for all skin types. It helps soothe sore, inflamed and itchy skin conditions, and also assists in soothing skin.
Chamomile Extract helps calm the mind and body, it has similar effects on the skin. Chamomile boasts anti-inflammatory and antioxidant properties that can help soothe the skin, reducing redness and blemishes. It can even relieve skin irritations like eczema, psoriasis, and rosacea.
Buckthron Extract is also a favorite anti-aging skin ingredient. It is known for its healing benefits, skin hydration, and production of more collagen that helps to plump your skin, and smooth fine lines and wrinkles.
Rosehip Oil  also known as rosehip seed oil. It's derived from the rosa canina rose bush, which is grown mostly in Chile. It contains phenols that have been shown to have antiviral, antibacterial, and antifungal properties. 
Evening Primrose is a plant native to North and South America that also grows throughout Europe and parts of Asia. It has yellow flowers that open at sunset and close during the day. The oil from evening primrose seeds contains omega-6 fatty acids, including gamma-linolenic acid (GLA).
Soap Care: Store soap in a cool dry area for a longer lasting bar. You can also use our wooden soap dish saver or our soap saver bag. Another way is to cut soap in half and/or cut the halves into halves so you can use one half a week.
Approximately 4-5 oz
For best results match this product with our Pearl Box Steam & Pearl Box Oil
Store soap in a cool dry area when not in use for a longer lasting bar
Ingredients: Olive Oil, Safflower Oil, Coconut Oil, Palm Oil, Rosehip Oil,  Essential Oils, Calendua Extract, Chamomile Extract, Buckthorn Extract, Carrot Extract, Evening Primrose Extract, Mica 
View full details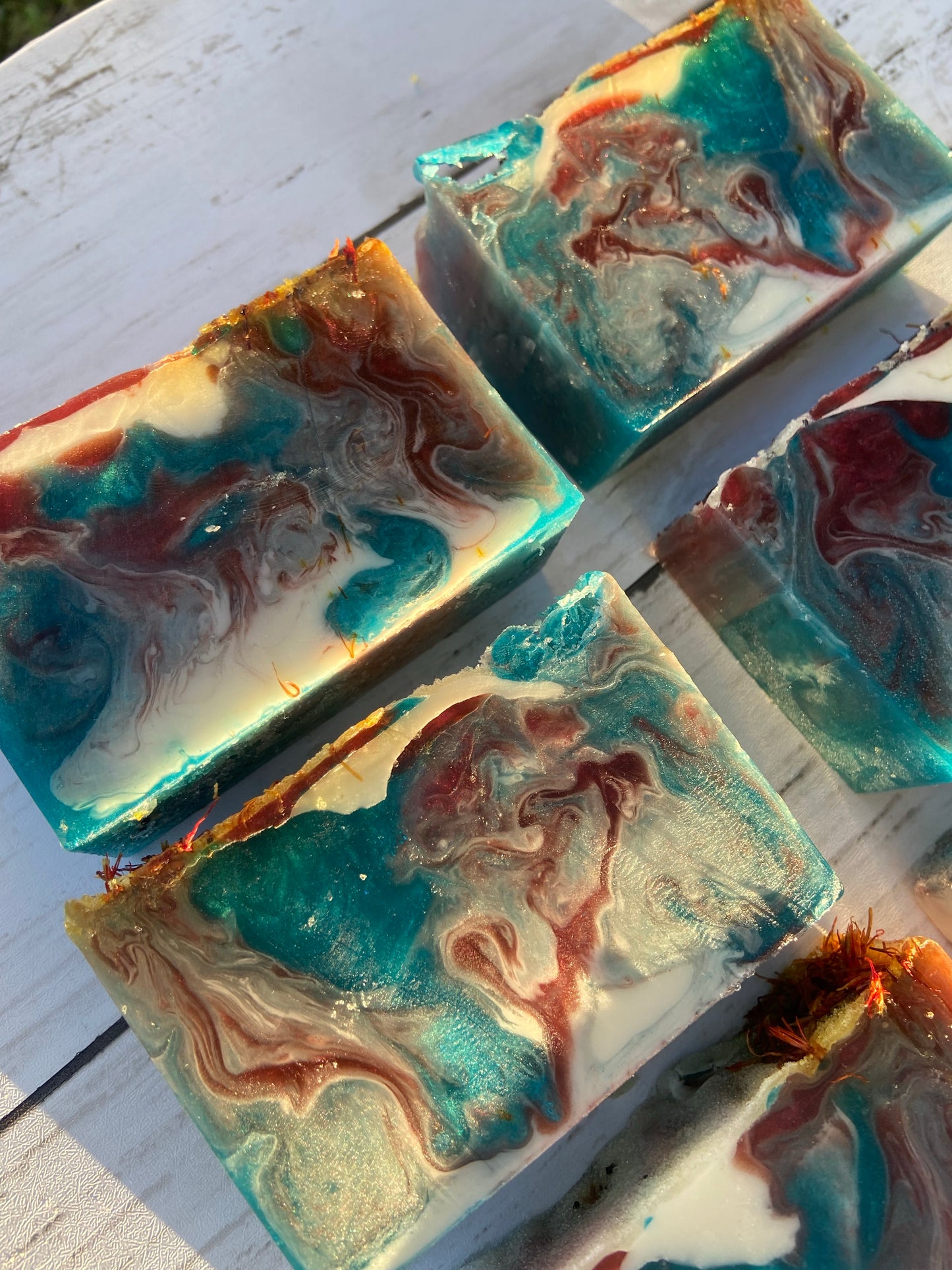 PROCESSING & SHIPPING

PROCESSING: 5-6 days before your item ships. Once item is ready to be shipped it will be delivered between 1-7 business days depending on your location. Please check email and spam messages for your tracking number once order has shipped.

RETURN AND EXCHANGES

WE DO NOT OFFER RETURNS OR EXCHANGES. If there is something wrong with your order please reach out to us.